ONZE PASSIE IS CACAO.
HET IS TEVENS EEN MEDIUM DAT FIJNE SAMENWERKINGEN FACILITEERT.
VIA EVENTS, TASTINGS, FOOD PAIRINGS, WORKSHOPS, LEZINGEN, MARKTEN ED. LATEN WE JE KENNISMAKEN MET ALLE FACETTEN VAN SPECIALITY CACAO EN EERLIJKE en FIJNE CHOCOLADE.
WE HOPEN HIERMEE TEVENS AANDACHT TE BRENGEN ROND EEN TRANSPARANTE, TRACEERBARE EN EERLIJKE CACAO-KETEN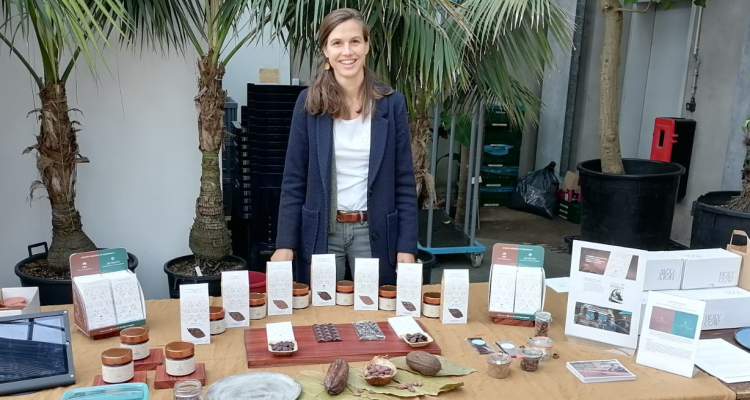 Op zoek naar een teambuilding of leuke groepsactiviteit of naar een interessante lezing voor je vereniging of event?
Het kan allemaal. Wij maken iets op maat! Contacteer ons voor meer info.
CACAO & CHOCOLADE – door Ellen van HOLY COW chocolate
Gent Smaakt, het jaarlijkse culinaire evenement dat de smaakpapillen prikkelt van fijnproevers uit het hele land, komt er weer aan! Van 17 tot en met 21 mei zullen de pleinen rond de Stadshal in het hart van Gent weer bruisen van smaken, geuren en kleuren van de beste gerechten en dranken die België te bieden heeft.  
Op vrijdag 19 mei geven we een lezing en tasting over CACAO & CHOCOLADE. We doen onze duurzame cacao-keten van boer tot chocolade uit de doeken en laten je kennismaken met "speciality" cacao uit India. Daarbij worden tal van proevertjes geserveerd en giet je zelf je eigen reepje chocolade.
Chocolate addicts take your change! Schrijf je hier in